1 ltr Soyabean Refined Oil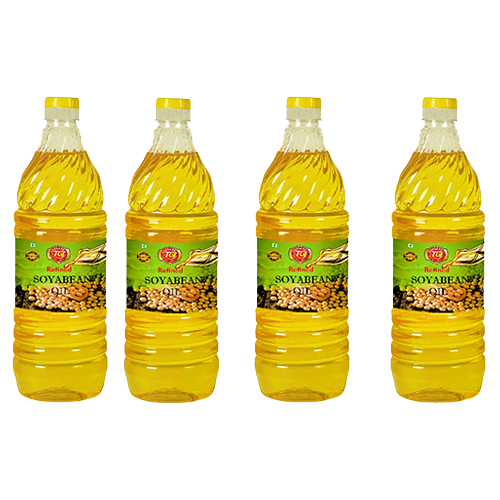 1 ltr Soyabean Refined Oil
Product Description
A form of refined vegetable oil made from soybeans is known as soybean oil. It is a well-liked cooking oil because of its bland flavor, high smoke point, and adaptability in various cooking processes. In the food business, soybean oil is frequently used for baking and frying.
Soybeans that have undergone a refining procedure to remove contaminants and enhance their quality are used to make refined soybean oil. Degumming, neutralization, bleaching, and deodorization are a few of the phases in the refining process that assist eliminate impurities and enhance the oil's color, flavor, and shelf life. Omega-3 and omega-6 fatty acids, which are crucial for maintaining good health, can be found in soy oil, a good source of unsaturated fats. Vitamin E, an antioxidant that helps shield cells from damage brought on by free radicals, is also abundant in it.
It is crucial to remember that refined soybean oil might not be as nutritious as unprocessed or cold-pressed soybean oil because the refining process may cause some of the natural minerals and antioxidants to be lost. Furthermore, some people can be allergic to soy, in which case they should abstain from consuming soybean oil.
Overall, refined soybean oil is a well-liked and adaptable cooking oil that is extensively utilised in a variety of cuisines. When eaten in moderation, it is a rich source of beneficial fats and can be a part of a healthy diet.
FAQ
1. What is refined soybean oil?
Ans - A vegetable oil made from the seeds of the soybean plant is called soybean refined oil. It is a common ingredient in many processed foods and is frequently used in baking, deep-frying, and cooking.
2. What are the advantages of utilising refined soybean oil?
Ans - Monounsaturated fatty acids, which can lower cholesterol levels, are abundant in soyabean refined oil, which is also a significant source of vitamin E, an antioxidant. Additionally, because of its high smoke point, it can be used for high-temperature culinary methods like deep frying.
3. Can vegetarian and vegan diets use refined soybean oil?
Ans - Yes, refined soybean oil is acceptable in vegetarian and vegan diets.
4. Is refined soyabean oil safe for allergy sufferers?
Ans - Refined soybean oil should be avoided by anyone with soybean allergy. Additionally, it's crucial to read the labels of items that include soyabean refined oil because they can potentially include additional components that could trigger allergies.
5. How should refined soybean oil be kept?
Ans - Refined soybean oil needs to be stored away from direct sunlight in a cold, dry environment. After opening, it must be kept in the refrigerator and used within six months.
Contact Us
B No. 4, Chepatoli Village, P.O- Bhadoi Panchali, Gelipung, Dibrugarh, Assam, 786191, India
Phone :09435403263