FARMORY Round Jaggery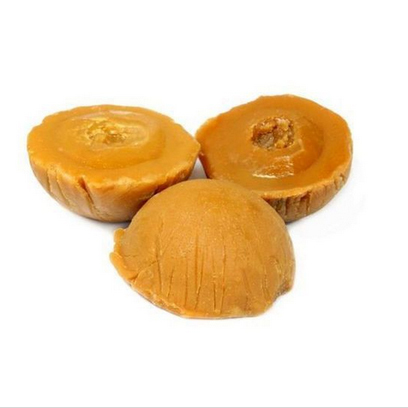 FARMORY Round Jaggery
Product Description
Traditional unrefined sugar known as round jaggery is a form that is frequently used in South Asian cooking. It is produced by heating palm sap or sugarcane juice until it thickens and takes on the shape of a sphere. Jaggery is a characteristic brown colour and has a flavour that is rich and caramel-like yet only a little bit sweeter than brown sugar. In South Asian cuisine, round jaggery is frequently used as a sweetener in desserts and beverages. In order to provide sweetness and depth of flavor, it is also used in some savoury meals, particularly in particular varieties of Indian curries. Due to its abundance in iron, potassium, and other minerals, jaggery is well known for its positive effects on health. It is also thought to aid in digestion and strengthen the immune system.
Due to its unrefined nature and higher vitamin content than processed sugar, jaggery is regarded as a better alternative to refined sugar. It does not result in a sharp rise in blood sugar levels because it has a lower glycemic index than refined sugar. It should still be consumed in moderation as part of a healthy, balanced diet, though, as it is still a type of sugar. All things considered, round jaggery is a well-liked and adaptable ingredient in South Asian cooking, and it is renowned for its unique flavour and health advantages. It can be used as a healthier substitute for processed sugar because it is natural and unprocessed.
FAQ
1. What is round jaggery, exactly?
Ans - Round jaggery is an unprocessed sugar that is created from the sap of sugar or date palms. It is a common sweetener that has been around for a long time. Its distinctive flavour and deep brown hue make it a popular ingredient for baking and cookery.
2. What are the advantages of round jaggery for health?
Ans - Round jaggery is a better choice for your health than white sugar. Antioxidants, minerals, and vitamins found in abundance in it can strengthen immunity and reduce inflammation. Additionally, it has a lot of dietary fiber, which might help with digestion.
3. How is round jaggery processed?
Ans - The sap from date palms or sugar palms is boiled until it turns into a thick syrup to create round jaggery. After filtering, the syrup is heated once more to create crystals. After drying, the crystals are ground into a powder.
4. How is circular jaggery used?
Ans - Chutneys, curries, and sweets can all be made sweeter by adding round jaggery to them. Additionally, it can be added as a topping to waffles, pancakes, and other morning foods.
5. How is round jaggery stored?
Ans - Round jaggery needs to be kept in a dry, cool environment in an airtight container. Direct sunshine and high temperatures should be avoided since they can make the food deteriorate.
Contact Us
B No. 4, Chepatoli Village, P.O- Bhadoi Panchali, Gelipung, Dibrugarh, Assam, 786191, India
Phone :09435403263